Beach Volleyball World Champs 2022
Valentina Gottardi, the 19-year-old exceeds all expectations in her first World Championships
Gottardi, partnered with the veteran Marta Menegatti, finishes fifth in their first big event as a team
Опубликовано 05:53, 18 июнь 2022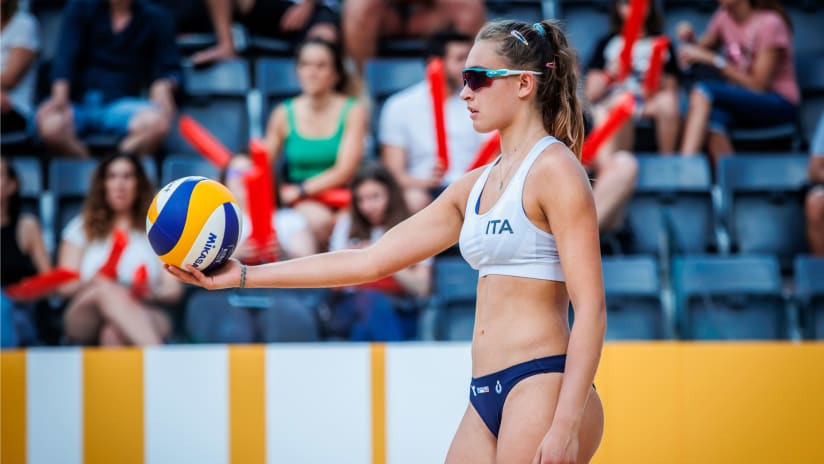 It's poetic. Every step and syllable of this World Championship run for Valentina Gottardi and Marta Menegatti is poetic.
Eleven years ago, at the very city in which this 2022 World Championships was played, a 20-year-old named Marta Menegatti was introduced on centre court, heart beating to the applause of adoring home fans. The 13-seed in the 2011 World Championships, Menegatti and Greta Cicolari quickly became the darlings of the tournament, winning their first three matches of pool play, including an upset over Americans Lauren Fendrick and Brooke Niles, 21-17, 21-17, to claim the No. 1 spot in pool.
They were young and spunky and the undeniable hometown favourites, the only Italian women's team to make it out of pool and into the elimination rounds. They'd finish ninth-place in that year's World Championships, in Menegatti's second year competing on the World Tour. So she knows full well what it's like to be young and raw and relatively untested prior to appearing on the game's biggest stage. She knows full well what it's like to make your debut in the grandest of ways, at a World Championships, in front of your home crowd, in Rome, a city so deeply rich in history and culture. She knows full well what it's like to play with a veteran partner, one nearly a decade her senior.
She knows, in other words, exactly what Valentina Gottardi was experiencing these past eight days
If you hadn't heard Gottardi's name mentioned prior to this week's World Championships, you can be forgiven. Her resume included just four professional tournaments, all this year. Her largest main draw came in a Challenger in Itapema, in which Gottardi and Menegatti went 0-2 in pool and returned home without winning a set, or really even getting close to one.
And then, just as Menegatti did as a rookie in 2011, Gottardi shined when and where it mattered most: At home, in the World Championships. The 19-year-old blocker finished fifth in Rome alongside her veteran partner, stunning one team after the next, putting on a show for the home crowd and confirming that, yes, Italy can still contend for medals in the biggest tournaments on the schedule.
"It's fantastic, an amazing experience," Gottardi said. "Maybe the last match we didn't play well but we are happy for the other matches and for our progress."
As they very well should be. The 43 seed in a field of 48, they opened up these World Championships with a shocker over Americans Sara Hughes and Kelley Kolinske, winning 21-17, 21-19. A loss to Spain's Maria Carro and Angela Lobato didn't slow or deter them in the slightest, as they rebounded with a victory over Ecuador to guarantee advancing from pool.
And then the real magic began working.
Another upset over Argentinian Olympians Ana Gallay and Fernanda Pereyra, then another, over fellow Italians Margherita Bianchin and Claudia Scampoli, 25-23, 21-15. It left them just one win away from competing in the medal rounds. Neither Gottardi nor Menegatti tried to play it cool, to act as if this was all part of the regularly scripted plan. They leapt into one another's arms, Gottardi's enthusiasm and joy becoming immediately contagious to the 31-year-old Menegatti.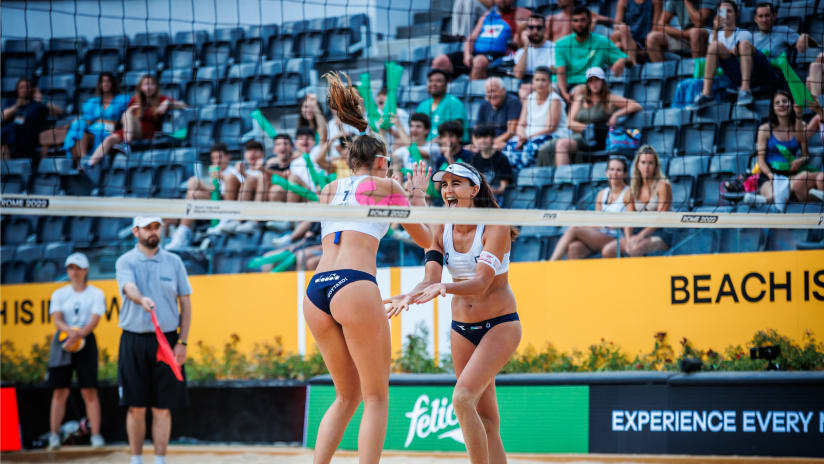 "I just try to keep calm and try to let her be patient during the game," Menegatti said. "I think we prepared for all the games really well and it helped a lot. She's very young."
That preparation led to what would ultimately become a fifth-place finish at the World Championships, as their run would come to an end on Friday against Canadians Brandie Wilkerson and Sophie Bukovec. Their fifth ties for the best finish from an Italian women's team since…Marta Menegatti began competing in World Championships as a 20-year-old in Rome 11 years ago.
"I felt joy," Gottardi said. "It was fantastic, amazing. It was incredible."
Indeed, there is much to be proud of for these Italians, who were the final home team in the mix after early exits from Adrian Carambula and Enrico Rossi, Alex Ranghieri and Daniele Lupo, Sam Cottafava and Paolo Nicolai, and Reka Orsi Toth and Viktoria Orsi Toth, who were forced to withdraw due to injury.
"It was special. Really special for me," said Menegatti, who has competed in three Olympic Games and six World Championships. "We feel a little bit sad right now but I think we need to see the whole tournament and all the progress that we made. I think a fifth place in a World Championship, her first World Championship, is a very good result. Just 19 years old!"
More big stages, big matches, big moments, lie ahead for the Italians.
"Now we have to play as much as we can because we need to play," Menegatti said. "We are a new team. We trained a lot during the winter but now it's time to play tournaments and focus on our game and become better and better."
"I couldn't imagine this," Gottardi added . "Let's see what the future brings for us."