Perusic & Schweiner delight home crowd, make Ostrava quarterfinals
Duos from Brazil, the Netherlands, Norway, Poland, Qatar, Spain also on to the knockouts
Опубликовано 05:43, 27 May 2022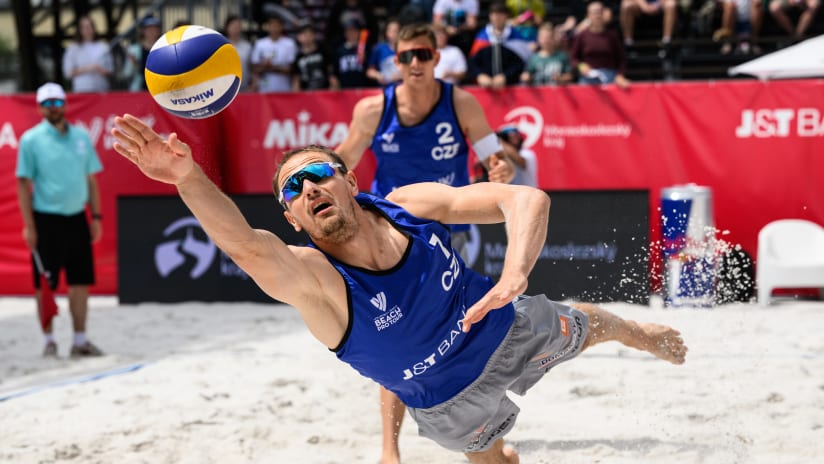 Czechia's Ondrej Perusic and David Schweiner will play against Qatar's Cherif Younousse and Ahmed Tijan in the quarterfinal match bound to attract the largest crowds to the centre court in Ostrava as the home favourites attempt to keep the tradition they started in previous years and make the last four at the 2022 Volleyball World Beach Pro Tour Elite16 event on Saturday.
As the pool stage of the tournament was completed on Friday, all quarterfinalists emerged. The other three men's duels will feature Anders Mol and Christian Sorum of Norway against Andre Stein and George Wanderley of Brazil, Alison Cerutti and Gustavo Carvalhaes, also of Brazil, against Alexander Brouwer and Robert Meeuwsen of the Netherlands, and Michal Bryl and Bartosz Losiak of Poland against Pablo Herrera and Adrian Gavira of Spain.
Top-seeded Perusic and Schweiner made sure they kept the home crowd happy as they recovered from Thursday's unexpected loss in Pool A with two victories on Friday. In the morning, the Czechs lost the first set against Italy's Adrian Carambula and Enrico Rossi, but bounced back to celebrate their first win deep into the tie-breaker overtime, 2-1 (19-21, 21-18, 21-19). Then, they went against Herrera and Gavira, who had yet to lose a set in the pool. The home team achieved an emphatic 2-0 (21-12, 21-17) victory to top the final pool standings, as both pairs qualified for the quarterfinals.
"We are very happy that we have improved and I hope that we will be able to repeat it in the quarterfinals," said David Schweiner. "For us, advancing among the top eight is very important not only because of the tournament itself, but also in the long run. According to the new rules, the last three results are counted towards the ranking, so one bad result is enough to push you down to the qualifiers. So I'm very happy that we advanced."
Perusic & Schweiner v Carambula & Rossi: Match Highlights
After their difficult tie-breaker win on Thursday, fifth-seeded Bryl and Losiak celebrated victorious in Friday's two straight-setters and topped the final Pool D standings. Their day started with a 2-0 (21-15, 23-21) win over fourth-seeded Andre and George and finished with a narrow 2-0 (21-19, 21-19) shutout of Czechia's Jakub Sepka and Tomas Semerad. Meanwhile, the Brazilians had a direct encounter with Italy's Paolo Nicolai and Samuele Cottafava for the pool runner-up spot and earned it with a 2-0 (21-16, 21-17) victory.
Friday's key match in Pool B went to three sets, with Cherif and Ahmed winning both the first and the third in the overtime. The Qataris celebrated as quarterfinalists after winning the direct clash with USA's Trevor Crabb and Tri Bourne for the second ticket by 2-1 (23-21, 16-21, 16-14). The first was booked by Alison and Guto on Thursday. On Friday, the Brazilians just made sure they topped the pool on a spotless record of three straight-setters and shut out Estonia's Kusti Nolvak and Mart Tiisaar by 2-0 (21-15, 21-14).
Cherif & Ahmed v Bourne & Crabb: Match Highlights
Pool C unfolded following a similar scenario. The second place was decided in a direct duel between last year's Ostrava winners Brouwer and Meeuwsen and Austria's Robin Seidl and Philipp Waller, with the Dutch guys advancing on the wings of a 2-0 (21-17, 21-15) straight-setter. Mol and Sorum shut out USA's Chaim Schalk and Theodore Brunner by 2-0 (21-15, 21-17) to finish on top of the standings undefeated.
"I am just really happy that we were able to win this game today, because it means we are through to the quarterfinals," Robert Meeuwsen said after the match with the Austrians. "It was a really good game. They are such a tough opponent and it's never easy against them, so it was a good victory for us. Now we are just going to have a good rest, recover and go all-in tomorrow without any expectations. It would be great to defend the title, but we would be happy with any medal here."
Brouwer & Meeuwsen v Seidl & Waller: Match Highlights
Saturday's men's quarterfinal stage will start at 13:30 local time. The semifinals will also be played later in the day.